Wetting Agents in Oil Production: An Essential Component to Prevent Formation Damage
Demakhin S.A., Merkulov A.P., Kasyanov D.N. (Zirax LLC )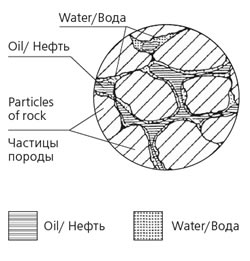 Fig. 1. Water block formation due to forming an aqueous film on hydrophilic surface of the rock
The wettability of rocks surface has a significant effect on many characteristics of oil and gas saturated reservoirs, such as saturation, phase permeability, as well as on fluid flow characteristics. The effect of this factor is particular important at near-wellbore area, because filtration of fluids and production rate largely depends on its permeability. This area is subjected to the most intensive negative impact of drilling and completion fluids. As a result, water saturation of the near-wellbore area increases and forms a zone of high water saturation (Fig. 1). This water block leads to a decrease oil phase permeability and, as a result, to a decrease oil production rate. From the other hand, this part of the reservoir is accessible for action, for example, by injection of different chemical agents.
Using of surfactants in oil production that can change the surface wettability of the rocks has been developing, at least, since the middle of the twentieth century [1]. Now, using such reagents increases in order to reduce water saturation of near-wellbore area and as additives to well-killing fluids and acid blends. It can be said about the beginning of new trend in oilfield chemistry, which we can named the technologies of control wettability of surface of reservoir rocks.
Treatment with wetting agents leads to change in the surface wettability of rocks in the near-wellbore area. It becomes hydrophobic, the water phase, as non-wetting, is forced into the expansion of the pore space and, is removed from the reservoir. As a result, water saturation decreases and oil phase permeability and the well rate increases.
Hydrophobization technology is often criticized from theoretical positions, primarily by hysteresis of the curves of relative phase permeability for hydrophilic and hydrophobic layers (comparison of points A and B in Fig. 2), i.e. at the same water saturation of the rock, it is lower for oil, and for water it is greater [2].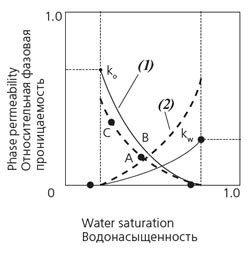 Fig. 2. Comparison of the oil and water phase permeability for hydrophilic (1) and hydrophobic (2) reservoirs
However, in this case, is not taken into account the fact of decreasing in saturation as a result of changing wettability. Therefore, it is more correct to compare point B on these graphs (the oil phase permeability in the hydrophilic layer at the initial saturation of near-wellbore area) and, for example, point C (the relative permeability in the hydrophobic layer with water saturation decreased as a result of hydrophobization).
Thus, the use of wetting agents for near-wellbore area treatment in production wells leads to increase production rate due to a decrease in water saturation of this area. This effect is even more pronounced in sandstone reservoirs with high clay content, the permeability of which is greatly reduced due to clays swelling. The effect of wetting agent leads to a decrease in their hydration, i.e. effect of clay swelling inhibition.
Zirax offers a range of wetting agents for application in completion and well killing operations, for acid treatments, and as a separate treatment in well stimulation. Wetting agent as additive in completion and well-killing fluids, first of all, aims to change the surface wettability in near-wellbore area, which reduces the fluid losses, facilitates its removal from the formation during well development, remove and prevent formation water block. Also this prevents formation of persistent emulsions and breaks the already formed ones, significantly reduces the swelling of the clay.
Wetting agent GF-1 developed by Polyex JSC reduces interfacial tension by almost 60 times (up to 0.05-0.06 mN/m). When added to completion and well-killing fluids, it reduces the dynamics of capillary soak treatment of the rock [3]. Absorption rate in this case is much lower in comparison with the samples of the rock treated with pure water and calcium chloride solution.
Wetting agent can be used both as a separate additive to any completion and well-killing fluid and also used in PelletOilWotaSoft technology [4, 5]. In this case, the wetting agent is applied already during the production of the calcium chloride by the method of evaporation fluid directly on the surface of salt granules. The process of using the salt system does not differ from the conventional one, while the wetting agent dissolves in water and makes its beneficial effect during completion and well-killing process.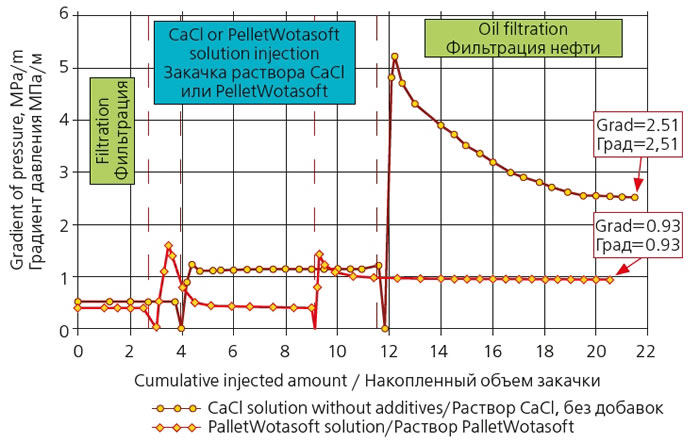 Fig. 3.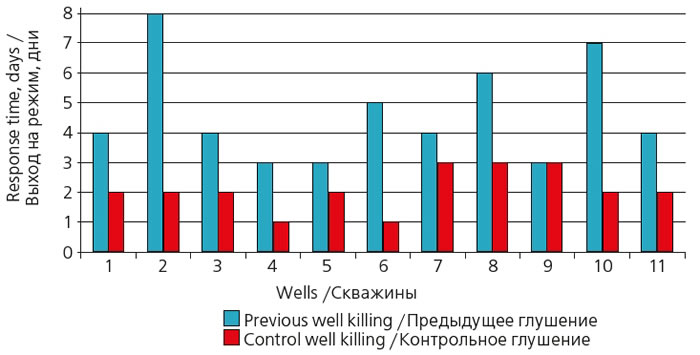 Fig. 4. The results of applying well-killing fluids with Wotasoft agent at Gazpromneft JSC wells in 2011.
The positive effect is confirmed by comparative filtration experiments with calcium chloride solutions with the addition of a hydrophobic agent (PelletOilWotaSoft) and without it (Figure 3) and the results of wells killing in Russia and the CIS (Figure 4.).
In addition to well-killing fluids, wetting fluids are used as an additive to the acid blends of Flaxocor series. Acid blends are water system and the most important task is the most complete removal of reaction products and residue acid from the reservoir. Using wetting fluid as a surfactant facilitates this task and also inhibits clays swelling and hydrophobizes the surface of rocks. This increases the effect of acid treatment and prevent formation damage.
Zirax also uses hydrophobized blend WBR-200 based on wetting fluids with a special solvent. It is designed not to be used as an additive in well-killing fluid or acid blends, but for self-treatment to remove capillary-bound water, to reduce water saturation of near-wellbore area, and thereby, for well stimulation. Filtration experiments on reservoir models have shown that injection of the WBR-200 hydrophobized blend leads to a decrease in residual resistance factor from 1.88 to 1.19, while water saturation of the model decreased from 31.69% to 3-5% (Fig. 5).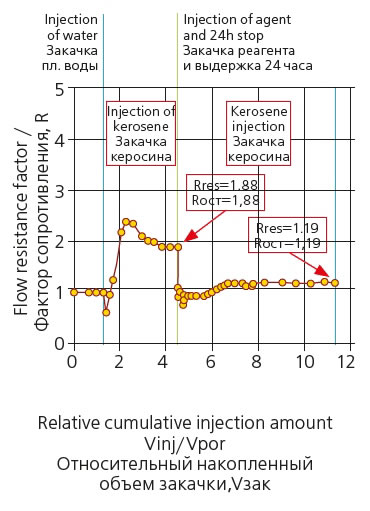 Fig. 5. Changing resistance factor after filtration water, kerosene and blend WBR-200 through reservoir model.
The main application area for this composition is low-water wells with a production rate lowered compared to the potential one, especially wells put on production after drilling, well killing or acid treatments.
Hydrophobization technology is an effective method of stimulation of hydrocarbon wells with hydrophilic layers, where productivity is reduced due to increased water saturation of near-wellbore area and swelling of clays.
References
1. Demakhin S.A., Demakhin A.G. Hydrophobizing surfactants in oil and gas production. Saratov, 2016.
2. Vashurkin A.I. On the inexpediency of bottom-hole zones hydrophobization of operating wells // Oil and gas of Tyumen. - 1971. № 10. P. 38-41.
3. Kill it softly. The use of modified well-killing fluids in well repair operations allows preserving reservoir properties of bottomhole formation zone. / Mikov A.I., Kazakova L.V. // Nefteservis, 2009, N 3, P. 52 - 54
4. Demakhin S.A. Technology Wotasoft for minimizing formation damage during well killing/ Sat. doc. 7th International R&D Conference "Well repair and enhanced oil recovery advanced technologies. Development prospects". Gelendzhik, Krasnodar Territory, 2012. - P. 35 - 39.
5. Demakhin S.A., Merkulov A.P., Kasyanov D.N., Mokrushin A.V. «Soft» well completion and killing is a basis for minimizing formation damage. // Oil and Gas Vertical, 2016, No. 6, P. 110-112.